Overall takeaway from this report is - ATS and ETS 2 are doing fairly well. BCS is still on stalemate, we ended our experiment, removed some maps and buses.
Bus Company Simulator
So, we stopped our experiment of raising the company and driver share due us seeing a lot of drivers resetting their careers (meaning they ran out of cash) and lot of new faces left immediately also due to this.
Thanks to that we have made some changes. Firstly we stopped extending the following map:
Steinkirchen V2
Städtereieck 21
Del-Pest 5
Belgrade
All of the maps listed above have earned us less than 5k in last 90 days (Städtereieck has earned 5.1k, but costs 24k per month to extend). I don't see a point for extending them for now.
Additionally I've started removing the buses when their maintenance cycle arrives that I haven't been used in the last 8 months - that's the amount of months I see on the scree at the time. Additionally if the bus is in a set, I do look the entire set usage instead. Buses removed are: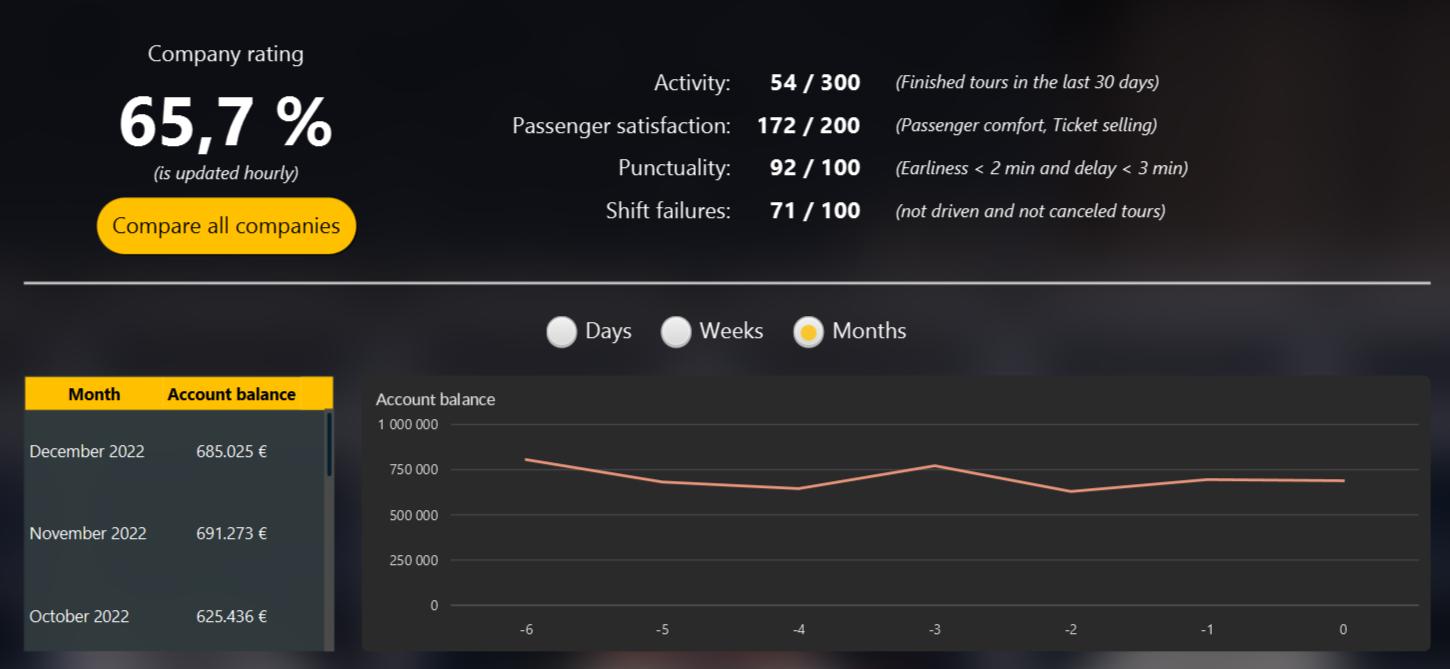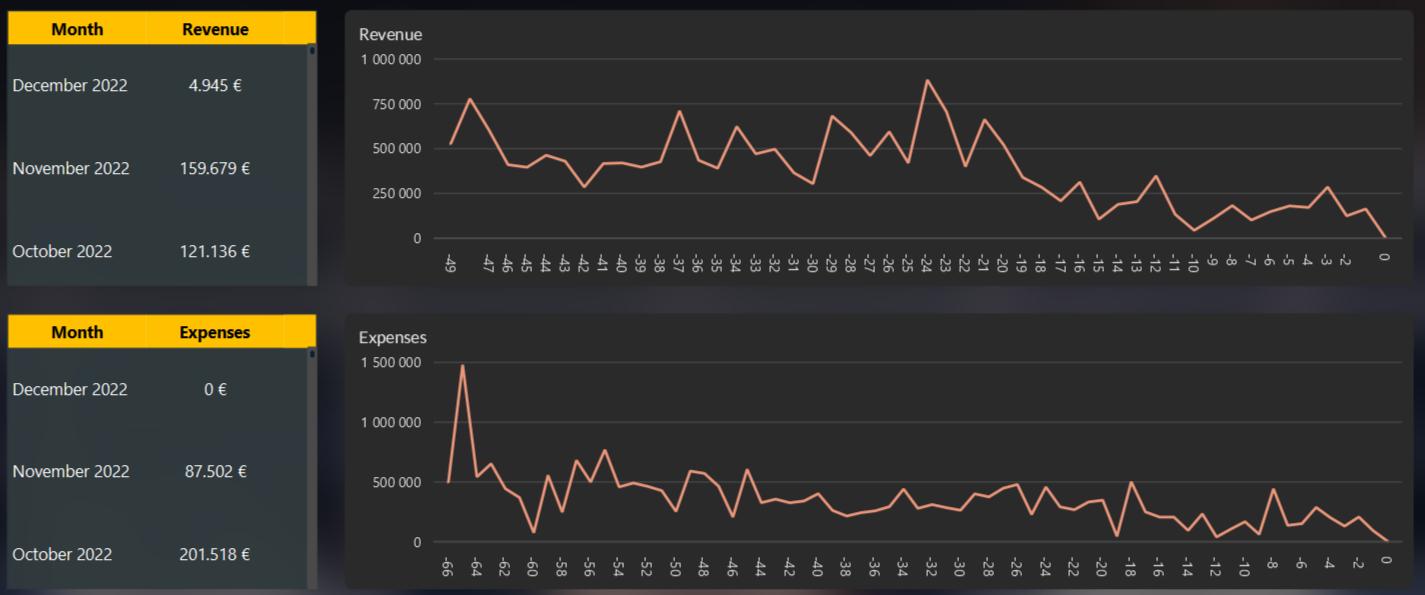 As you can see, we actually did get a small profit in those 2 months by increasing the share but as I said, at least for now I reverted the change so we'll see what happens in December. Our company rating has dropped once again, seemingly the activity section.
Favourite buses
October 2022
GO 1807 MB O405GN² Rheinbahn Vollmatrix
GO 1205 MB O405N² - kompl. Vollmatrix
GO 1254 MAN NLC Stadtbus Solobus - 3 Türer - 12C - Voith
GO 6216 London Citybus B5LH/EvoCiti (EuroVI)
GO 1835 MAN NLC Stadtbus Gelenkbus - 4 Türer - 19C - Voith
November 2022
GO 1838 Hamburger Stadtbus Elektro-Gelenkbus - HHA 2021
GO 1833 MAN NLC Stadtbus Gelenkbus - 3 Türer - 18C - Voith
GO 6213 [V3D] Digibus Phantom: Low floor with LED
GO 1254 MAN NLC Stadtbus Solobus - 3 Türer - 12C - Voith
GO 1819 MAN Stadtbus A23 - NG313-4 Gelenkbus
Favourite maps
Calcualtions based on 3 months average income
October 2022
Yorkshire 3.0 (Profit of 28 389€)
Westcountry 3 v3.02 (10 858€)
Ahlheim_Laurenzbach Updated (8 699€)
Cotterell v1.1 (6 119€)
Grande Porto 2021 (2 616€)
November 2022
Yorkshire 3.0 (Profit of 45 121€)
Ahlheim_Laurenzbach Updated (24 099€)
Westcountry 3 v3.02 (16 093€)
Fikcyjny Szczecin (11 772€)
London (10 718€)
As always, full statistics can be seen in our spreadsheet: https://docs.google.com/spreadsheets/d/e/2PACX-1vRBouifhr7yAGjrqU81hmJflivfM0fTINZNgOkEwGliv5p6b6Od9dl5LGKvFa1y7YyjSHoHeUlJRzFr/pubhtml
ETS 2 & ATS
I would say both ETS 2 and ATS had steady activity the last 2 months.
October 2022

November 2022

Top drivers of the month
August 2022
OMSI 2
Luki (Income of 71 082€)
GameBurrow (25 668€)
Scouse52 (15 637€)
Lucholopez32 (14 024€)
Carl37 (9 178€)
ETS 2
Scouse52 (Driven distance 25 243 km)
johnno124 (7 710 km)
Caixotes (1 401 km)
CharlesHarrison (1 385 km)
LunarEclipse (314 km)
ATS
Scouse52 (Driven distance 9 542 mi)
Kdeff (95 mi)
November 2022
OMSI 2
adamooss (ncome of 47 329€)
GameBurrow (32 134€)
Fran Cepeda (20 146€)
Scouse52 (14 385€)
MaxON (9 011€)
ETS 2
Scouse52 (Driven distance 15 669 km)
GameBurrow (5 036 km)
Caixotes (4 864 km)
ATS
Scouse52 (Driven distance 40 461 mi)
GameBurrow (974 mi)