Both January and February monthly reports are together this time as I'm missing some data for january,
Bus Company Simulator
The situation is bad, very bad. All finances we gained in the December's event are gone. Company rating is the all time lowest, only 50% and it's dropping. Latter prevents us from adding any new maps to the company (for example Städtedreieck update).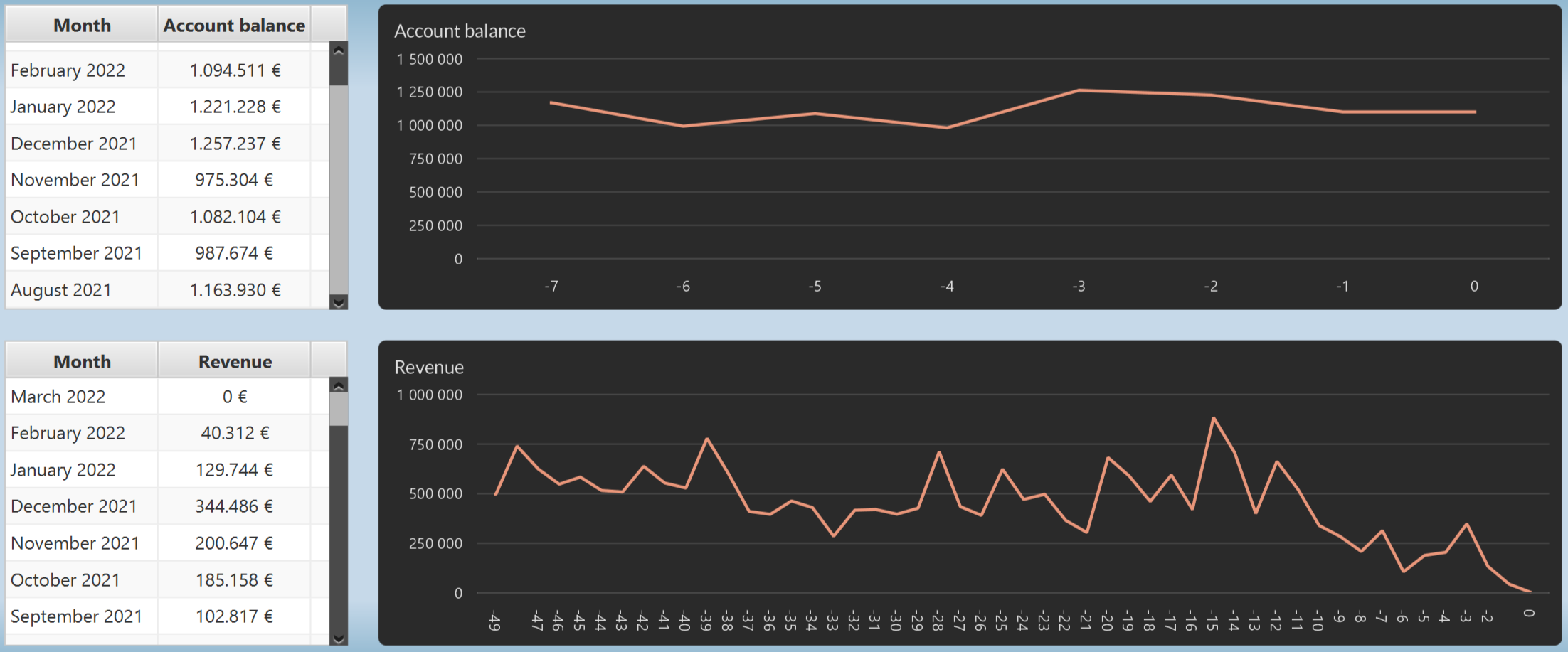 Favourite buses
January 2022
GO 5208 [MS] Masterbus (Yorkshire Counties) Veiling 3 - B8RLE (12.4m/Stealth) (Driven distance 116 km)
GO 1803 Scania Citywide GN13 BioEthanol 360hp (98 km)
GO 1837 Citybus O405G_ZF (69 km)
GO 1836 MAN Overhaul G A23 3D / E6 '17 / Voith (68 km)
GO 1834 MAN Overhaul GL A40 4D / E6 '17 / ZF (59 km)
February 2022
GO 6210 [V3D] Alexander GOBus B7TL - ALX400 (250hp) K++ (Driven distance 45 km)
GO 5204 [V3D] Alexander Dennis Enviro 200 MMC (11.5m) (41 km)
GO 6218 [MS] Masterbus (Yorkshire Counties) Masterdeck - (10.5m/Stealth) (28 km)
GO 1313 Rheinhausen Ueberlandbus Ueberlandbus (27 km)
GO 1226 Volvo V 7900 H (24 km)
Favourite Maps
January 2022
Ahlheim_Laurenzbach Updated (Map profit 27 626 €)
Yorkshire 3.0 (36 714 €)
Städtedreieck 3 (27 326 €)
Steinkirchen V2 (11 541 €)
Del-Pest 5.0 (7 970 €)
February 2022
Ahlheim_Laurenzbach Updated (Map profit 38 718 €)
Städtedreieck 3 (21 254 €)
Yorkshire 3.0 (15 194 €)
London (4 985 €)
Del-Pest 5.0 (4 929 €)
ETS 2 & ATS
Both January and February went very well for our trucking side. A lot of profit
January 2022

February 2022

Top drivers of the month
January 2022
OMSI 2
Cookie (Revenue of 20 319 €)
Benedettini(15 675 €)
BMF_NJ (10 705 €)
Caixotes (9 520 €)
InvertAutomated (7 8367 €)
ETS 2
Scouse52 (driven distance of 36 921 km)
Caixotes (12 522 km)
dansanp (9 886 km)
LetsRepaintIt (6 258 km)
LunarEclipse (4 762 km)
ATS
Scouse52 (driven distance of 10 659 mi)
dansanp (10 621 mi)
February 2022
OMSI 2
Ixe (Revenue of 9 133 €)
volvorider (8 210 €)
simon24 (5 453 €)
Caixotes (3 433 €)
Scouse52 (3 393 €)
ETS 2
Scouse52 (driven distance of 38 104 km)
Caixotes (9 125 km)
johnno124 (1 752 km)
ATS
Scouse52 (driven distance of 27 941 mi)
dansanp (2 822 mi)
Caixotes (872 mi)