As Sobol's NEOMAN pack got another mayor update we could proceed further with our plans of unifying our MAN Lion's City buses. As of this moment we have the following Lion's City buses in our company:
From NEOMAN pack
1315 | Lion's City A20 E6 Voith
1240 | Lion's City A21 E6 3D Voith
1242 | Lion's City A37 E6 3D Hybrid
1827 | Lion's City G A23 E6 4D Voith
1834 | Lion's City GL A40 E6 4D ZF
2207 | Lion's City DL A39 ZF
All buses in this category use the same repaintpack. Make sure to download from https://gogroupvirtual.eu/omsi/buses#1315
This repaint pack update is required for everbody, both normal and Sobol patreon users. I reccomend clean installing the buses.
I also reccomend installing the K++ enabler mod.
Other
1008 | Lion's City A76 (from GO Bus pack, only one remaining from it)
1600 | Lion's City A25 BETA
2204 | Lion's City DL09 (from X10)
All of the buses in other category are potentially going to be replaced should a replacement in Sobol's pack should be released. DL09 from X10 we kept for now to see if it's usage will drop with the release of replacement A39, as it's quite popular DLC.
All buses are parked in Depot 1: MAN depot. Parking spots look like this: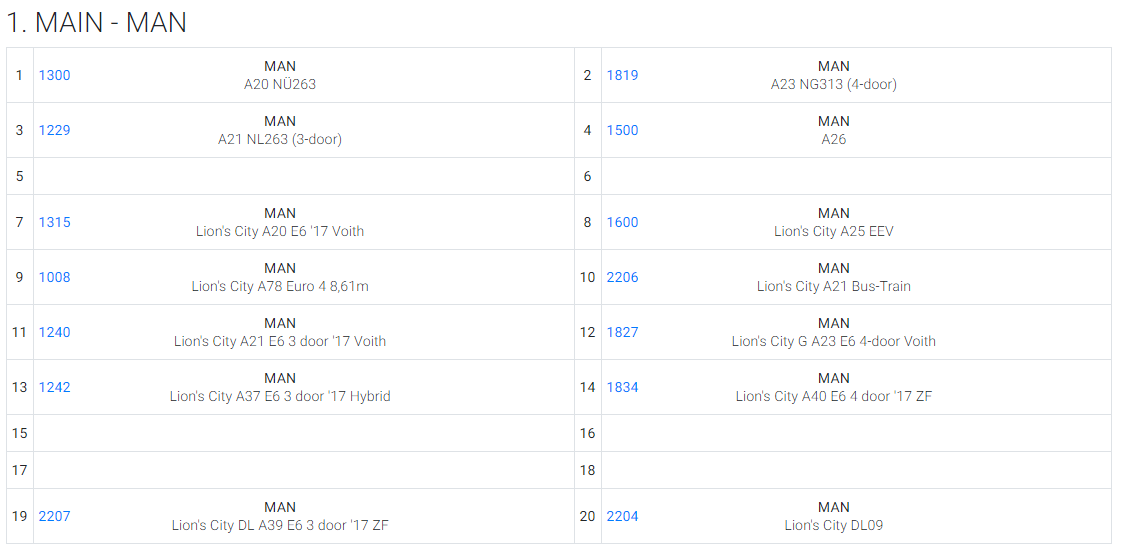 You'll notice we made some free space, we made room for the MAN Lion's City 12C, 18C and 19C from the new, hopefully soon, released New Lion's City generation DLC.
These Sobol's buses have a lot of setvars you can adjust to your needs. I left in the descriptions and comments.
I know some people are going to hate me for getting rid of A21 2D and A23 3D variations, but I wanted to make room for the new buses and as I mentioned at the beginning of the year, going forward our company will prefer 3 door for 12m & 15m city buses and 4 door for articulated city buses.
GÜ A42?
Would you guys be interested in us adding our first intercity articulated bus? Let me know down in the comments.