First month of September and on BCS side news aren't good. We have gone under out critical line (balance under 1million, which we considered always as a reserve). We also have hit multiple all time low records. like:
Total completed trips: 87 (so far this number has been between 150 - 400)
Revenue of the month: 101k (so far lowest has been a bit over 200k)
All time low company rating: 66%
Our company rating is also very low, only 66%, which limits us adding any new maps.
All of this means our BCS company is now at red mode, we are starting to make survival steps:
Starting from next end of month, all maps will be removed that have been in red for more than 3 months. No execptions - it doesn't matter if the map has been used or not, is it important somehow or not
If needed payrate for drivers will be changed
Currently maps that are in danger mode:
Lemmental V3 Updated
Krefrath
Berlin-Spandau
Fictional Szczezin
Hafencity - Hamburg Modern
By removing unprofitable maps it opens doors for new content and map updates (for example Del-Pest map is waiting for update 5 but we can't do it because we can't add any maps)
OMSI 2 / Bus Company Simulator
Rating is very low. As you can see our biggest issue is activity (that is also the most counting part of the rating), but all values aren't good (in BCS terms everything is at average or lower) - that also explains low income. As I mentioned at the beginning of the post - we are now under our "reserve" line which is 1 million.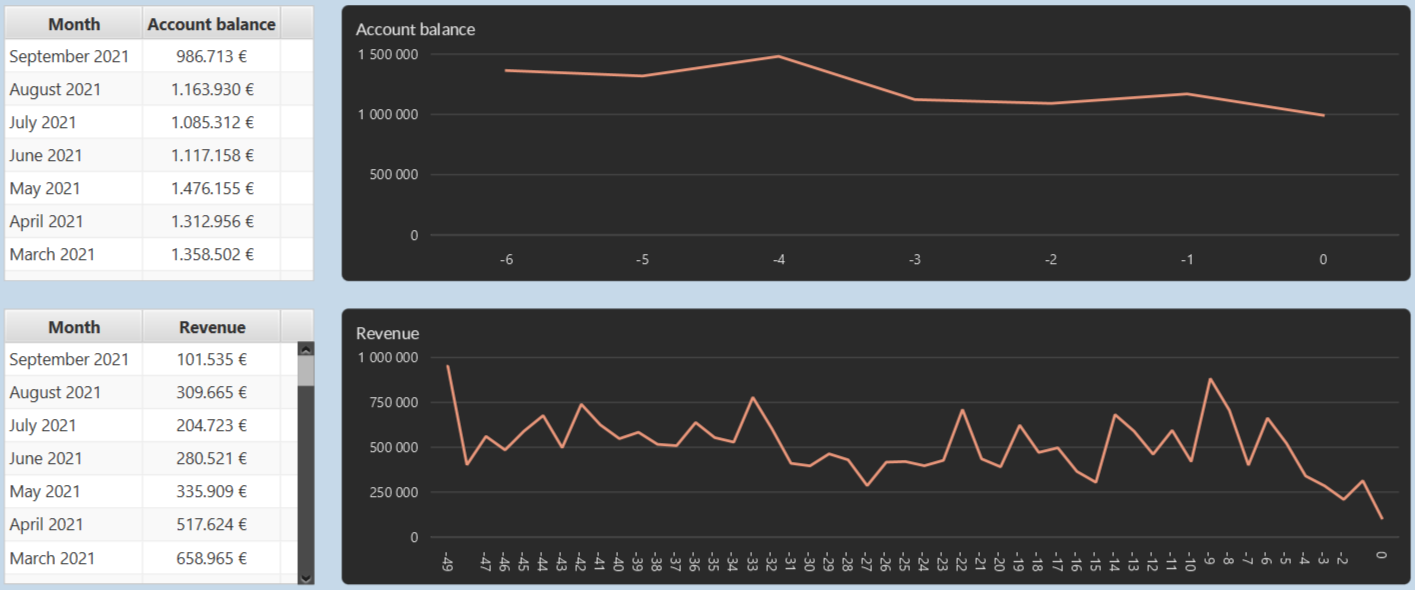 Favourite buses
Top 5 buses of this month were
GO 1304 MAN ÜL 272 Doppeltür/Automatik (driven distance 116 km)
GO 6212 [DLC] Studio Polygon 400MMC 10.3m (E40D/Voith) (86 km)
GO 1836 MAN Overhaul G A23 3D / E6 '17 / Voith (82 km)
GO 2204 MAN DL09 (82 km)
GO 1254 MAN NLC Stadtbus Solobus - 3 Türer - 12C - Voith (64km)
Best earning maps
Ahlheim_Laurenzbach Updated (profit of 21 615€ calculated from 3 month average)
Westcountry 3 v3.01 (8 884€)
London (7 789€)
Städtedreieck 3 (6 386€)
Tettau V1.0 (1 642€)
Maps that had the least profit
HafenCity - Hamburg Modern (profit of -11 130€ calculated from 3 month average)
Ahlheim 4 (-10 224€)
Fikcyjny Szczecin (-8 862€)
Berlin-Spandau (-6 379€)
Krefrath (-5 323€)
ETS 2 & ATS
ETS 2 had a lot less activity compared to last month, ATS had a big increase.

Top drivers of the month
OMSI 2
Scouse52 (revenue of last month: 15 927€)
adamooss (15 486€)
Cookie (12 460€)
nk4443 (10 755€)
GameBurrow (8 148€)
ETS 2
Scouse52 (driven distance of 6 554 km)
smb251c (3 672 km)
Nobody else has logged any trips
ATS
Scouse52 (driven distance of 23 217 mi)
Lewis334_ (7 381 mi)
GameBurrow (1 573 mi)