In BCS things are still as gray as ever but some light is shinging. Our rating is still very low - 63%.
As promised last month, this month a lot of maps got removed from the company. All of the removed maps either:
had updates waiting
where little used and lost us money
were constantly losing us money
This reduced our map extensions cost hugely and made some space for some new maps like: Budapest-Delpest, supposedly soon coming Yorkshire DLC etc. However sadly it was time to say goodbye to multiple iconic maps like Hamburg, X10, Fictional Szcezin
Maps that were removed are:
Ahlheim 4
Berlin-Spandau
Del-Pest 4.0
Express 91.06
Fictional Szcezin
Gehrten
Grande Porto 2020
Hafencity - Hamburg Modern
Krefrath
Lemmental V3
Ruhrau V2
X10 Berlin
OMSI 2 / Bus Company Simulator
Rating is very low and still dropping. As you can see our biggest issue still is activity. Due to the decision that we decided to cut a lof of maps, our end balance rose a bit but as you can see, even with that, it's very clos to last month.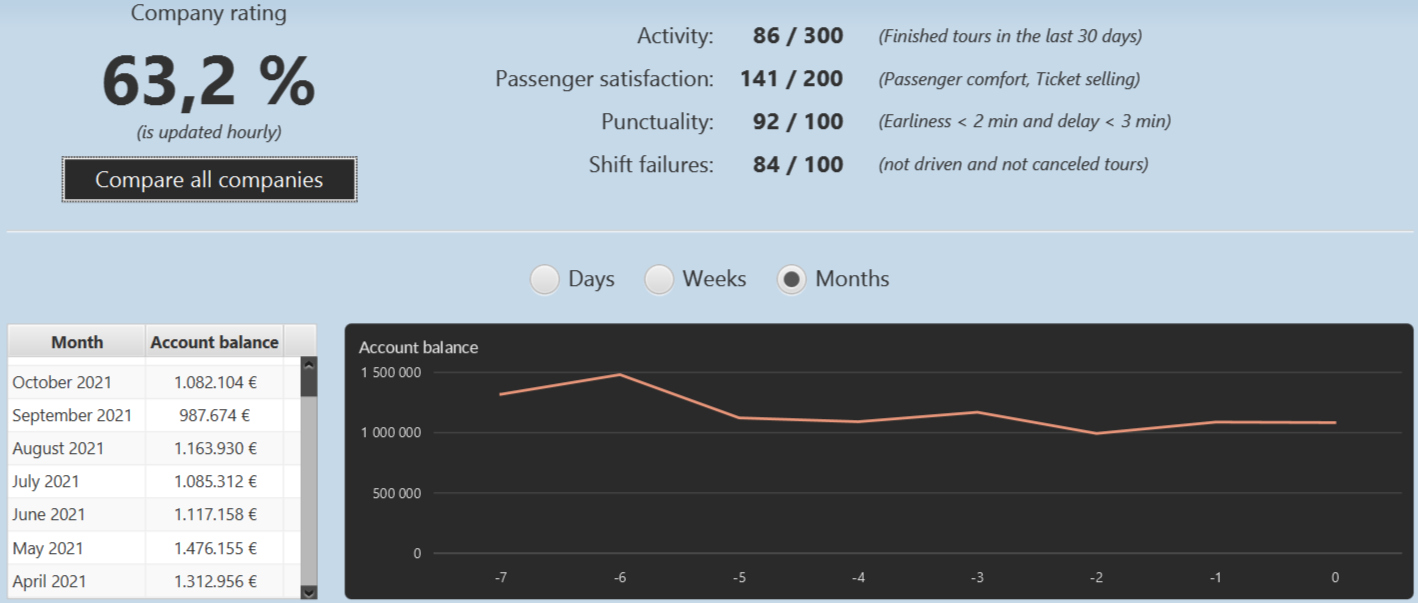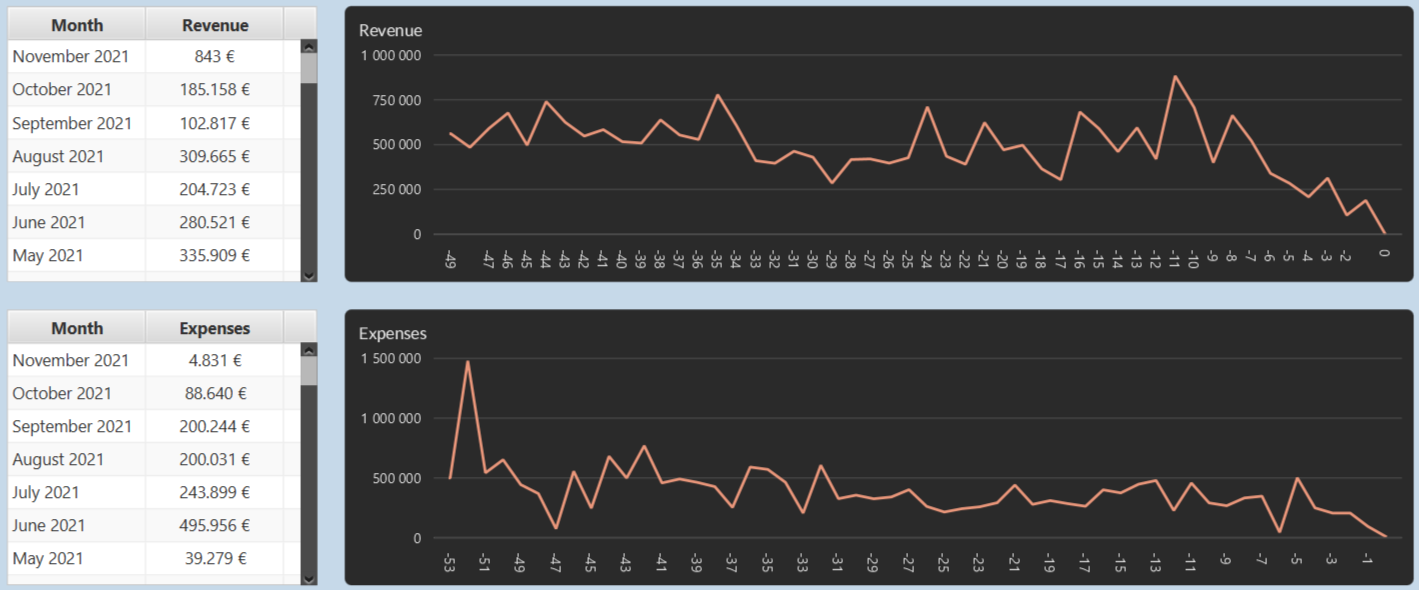 Favourite buses
Top 5 buses of this month were:
GO 1502 Solaris Urbino U15 MOKI ZF Ecolife DAF Euro 6 (driven distance 128.7 km)
GO 1307 Volvo 9900 Krüger (91.8 km)
GO 1226 Volvo V 7900 H (60.1 km)
GO 1803 Scania Citywide GN13 BioEthanol 360hp (59.3 km)
GO 2207 MAN Overhaul DD A39 3D / E6 '17 / ZF (58.4 km)
Best earning maps
Ahlheim & Laurenzbach Updated (profit of 20 599€ calculated from 3 month average)
Westcountry 3 (6 904€)
London (2 803€) Everything under this line is under 1k profit or had no trips driven, which actually is only 4 maps, rest is all negative
Least earning maps
12 maps had negative profite this month. Top offenders:
Ahlheim 4 (profit of - 11 776€ calculated from 3 month average)
Hafencity - Hamburg Modern (-9 512€)
X10 Berlin (-8 375€)
Fictional Szczezin (-8 255€)
Berlin-Spandau (-6 628€)
ETS 2 & ATS
Nothing unusual on the trucking side this month.

Top drivers of the month
OMSI 2
adamooss (revenue of last month: 15 416€)
Scouse52 (12 573€)
GameBurrow (8 851€)
volvorider (7 822€)
DasVasker (6 637€)
ETS 2
Scouse52 (driven distance of 31 747 km)
smb251c (6 256 km)
Caixotes (5 434 km)
Lewis334_ (1 368 km)
Sambob_12 (1 275 km)
ATS
Caixotes (driven distance of 3 029 mi)
Byron (2 923 mi)
GameBurrow (1 613 mi)
MrRick (101 mi)