It's that time of the year again. This month has been hard for most of us due to the coronavirus. However, looking at this positively - that means most of use are sitting home and can enjoy more games.
Overall statistics
And that does reflect in our company's monthly statistics.

Finances
I'm extremely glad to say that our company balance managed to stay over 1 million, even with massive replacements of MAN Lion's City buses and getting some demo buses.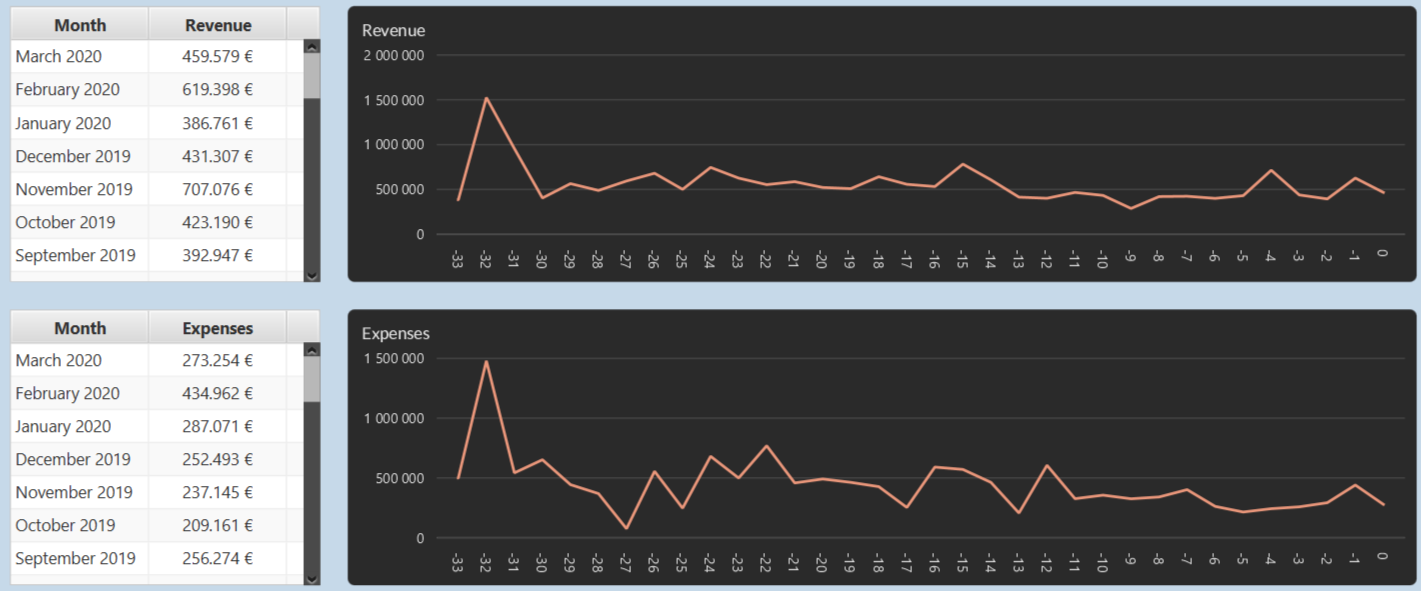 Sadly this does mean that taxes will be bigger this month for the company.
Employees
In total we have 98 drivers. Out of them, 39 have driven this month, which is a lot more than usually. Top drivers of the month are:
volvoguy64 (Income of last 30d 66 085€)
PICCO17 (31 690€)
camorn2003859 (29 658€)
DasVasker (25 902 €)
Lewsi (23 400€)
Maps
While the activity has risen this month, interestingly we have more maps in the red than usual. In total we have five maps, with whose we lost money this month (starting from bottom)
Marseille 2018 (-3 984€)
Berlin Spandau 2017 (-2 940€)
Berlin Spandau (-2 815€)
Rheinhausen (-2 815€)
Städtedreieck 3 (-1 508€)
How can map lose us money? Every month we have to extend license for using a map. The bigger the map and more popular it is with other companies, more it will cost.
We have extended Marseille map for the next month, but should it still stay in the red next month also, we will be removing it. I did expect it not being used much as it requires Aachen DLC which ain't very popular DLC.
However on the more positive side, top maps of the month are:
Yorskhire (69 599€)
Ahlheim & Laurenzbach Updated (31 436€)
Krummenaab 2019 (29 988€)
BotW (24 018€)
Lemmental V3 Updated (24 018€)

In addition to those, three more maps broke the 10 000€ line. They are Fictional Szcezin (17 224€), Hafencity (11 608€) and Cotterel (11 262€). This a lot more than last month which is very good news.
Full map statistics can be seen here.
Vehicles
The next section I have compiled for the first time since the AOD times of the company. Usage of vehicles. In total we have 86 vehicles. Out of them, 26 weren't used at all in the last month and 7 of them where used more than 15 times.
Top favourite vehicles of the month are:
Volvo 7900H (35 trips)
Scania Citywide GN13 (28 trips)
Alexander ALX400 (22 trips)
Iveco Crossway LE (18 trips)
MAN Lion's City A23 3D [Neoman Patreon] & MAN Lion's City A76 [MAN GO pack] & MB Citaro C2 2D [3-gen] (16 trips)

As you can see 5th place was shared by 3 buses and just following them is VDL Ambassador 200. There were quite the amount of surprise for me, for example:
didn't expect the MAN LC A76 to be so high up on the list. Same for the MAN LC A23 3D, which is currently Sobol's Patreon only bus
I thought that old MB Citaros are used more than C2 generation, looks like I was so wrong.
Didn't expect Electric urbinos 12 to be used more than it's diesel counterpart.
Didn't also epect that O345 Connecto would be used

However, I did get an confirmation of something I thought this entire time: modern buses are more popular and more used in OMSI (except UK side of the community, you guys like always like to be the opposite :D ).
Full list is viewable here.