It's time for our February Bus Company Simulator report.
Genral statistics

AS you can see see our company's rating is less than it was in January 2020 (92,4% was then). Some have asked me, how does the company rating affect our company?
It limits how many maps we can have (currently adding extra map requires minimum of 86% rating, more maps we have, higher that rating requirement will be)
Our company will drop in the company listing so it is less likely that somebody will find our company.
Something positive also, our activity has moved up from low to normal.
Finances

The rise in activity has also brought an increase in finances, not much, but it's on the rise for the last month (which is especially good considering the month was shorter than usual)
As you can see our revenue increased twice compared to January. So did expences also, but we got several new buses also (NEOMAN MAN buses), which takes up a big chunck of that. My opinion is that it was good choice even though they aren't available to all, because I've seen a big increase in activity with them in the company.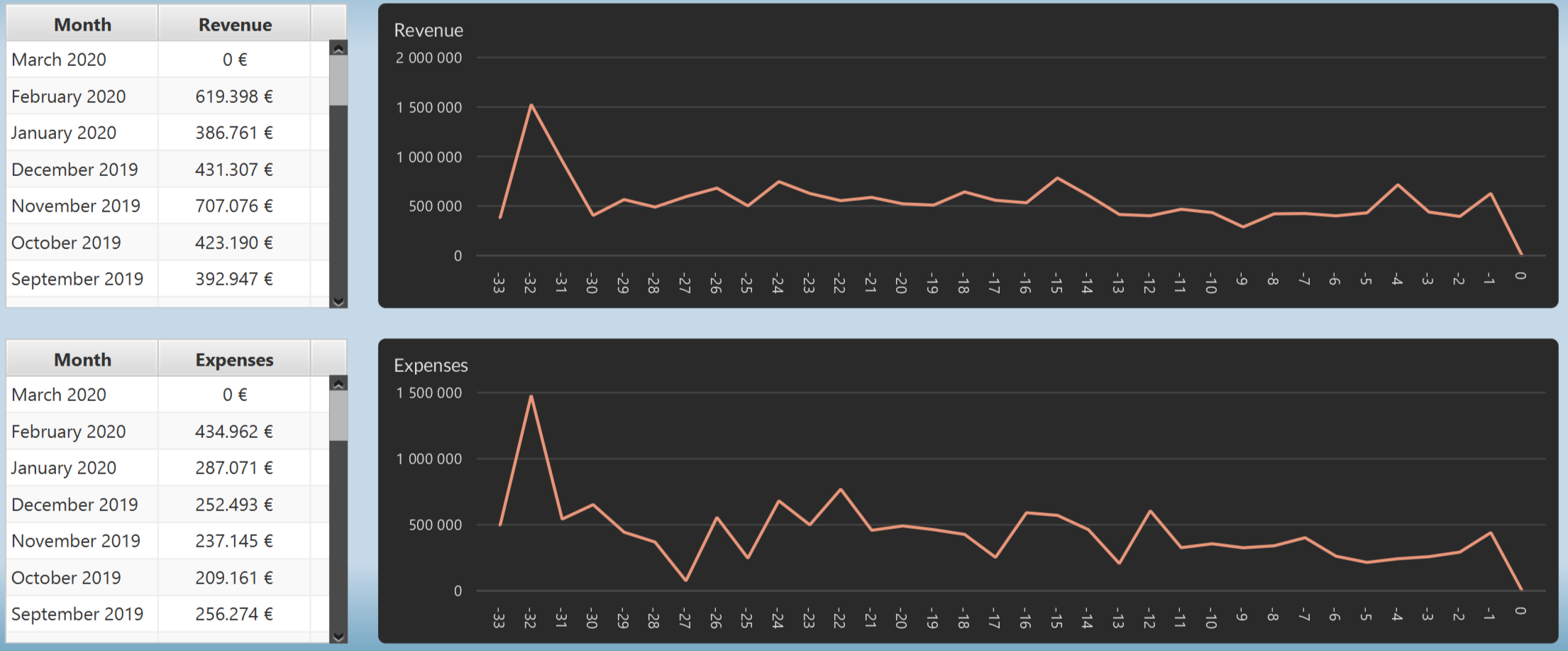 Maps
Now onto the maps. Some of the people have asked, should we remove some of the maps to reduce monthly costs. To answer that question I compiled montly statistics of all maps into a single file, added some calculations to see, how much profit each map brings us (after substracting the expenses).
After compiling the list, here are the 4 maps that lost us money this month:
Marseille 2018 (-€11,293)
X10 Berlin (-€5,603)
Berlin Spandau (-€2,863)
New Berlin Spandau 2017 (-€982)
I was actually surprised to find X10 from that list. Rest 3 didn't surprise me: Berlin Spandau is mostly only used by new players, New Berlin Spandau 2017 is a nostalgic OMSI 1 map and Marseille require Aachen DLC which isn't popular.
Top maps of this month were:
Yorkshire (€64,759)
Ahlehim & Laurenzbach Updated (€44,700)
Fictional Szczezin (€28,612)
BotW (€19,254)
Krummenaab 2019 (€18,717)
Full list of statistics (with all maps) can be seen here: 2020-02 BCS: Map statistics
Including trips started and finished in last 30d, revenue of last 90d (and avg per month calculated from that), cost to extend, total amount of crashes, punctuality and calculated income.
Drivers
In total we have 93 employees (several returnees this month) and our top drivers for the month are:
Prince paul (89 159€ earned per month)
Cal (73 895€)
volvoguy64 (70 270€)
GameBurrow (42 232€) - it's been a long time since I also was last in the list :)
Cookie (40 518€)
A bit longer list can be seen here: https://i.imgur.com/fxDLTBH.png